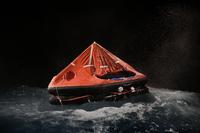 RTX™ 200
Nylon (Polyamide), 235 Dtex, PU Coating, 130 g/m2
ISO 12402-7
Available from stock (1 roll minimum)This item can be purchased from stock. The minimum order quantity is 1 full roll. Please contact us for other details.
Actual colours may vary from the images shown.
Fabric used in many circumstances where protection against foul weather is required such as rain wear; bags; life jacket covers and more. Rivertex® 200 has a high watercolumn (> 5.000 mm) and the seams can be taped with most common types of seam sealing tape.
Item

RTX™ 200

Base fabric

Nylon (Polyamide)

Polymer

PU Coating

Applicable standards

ISO 12402-7

Characteristic

Waterproof
Water Repellent
Wind Proof
Panel Encapsulation & Cover Fabrics
Fabrics for Marine applications
Fabrics for personal protection equipment